International Design Workshop 3 · Arrival by Shadi Design between 25 September - 31 October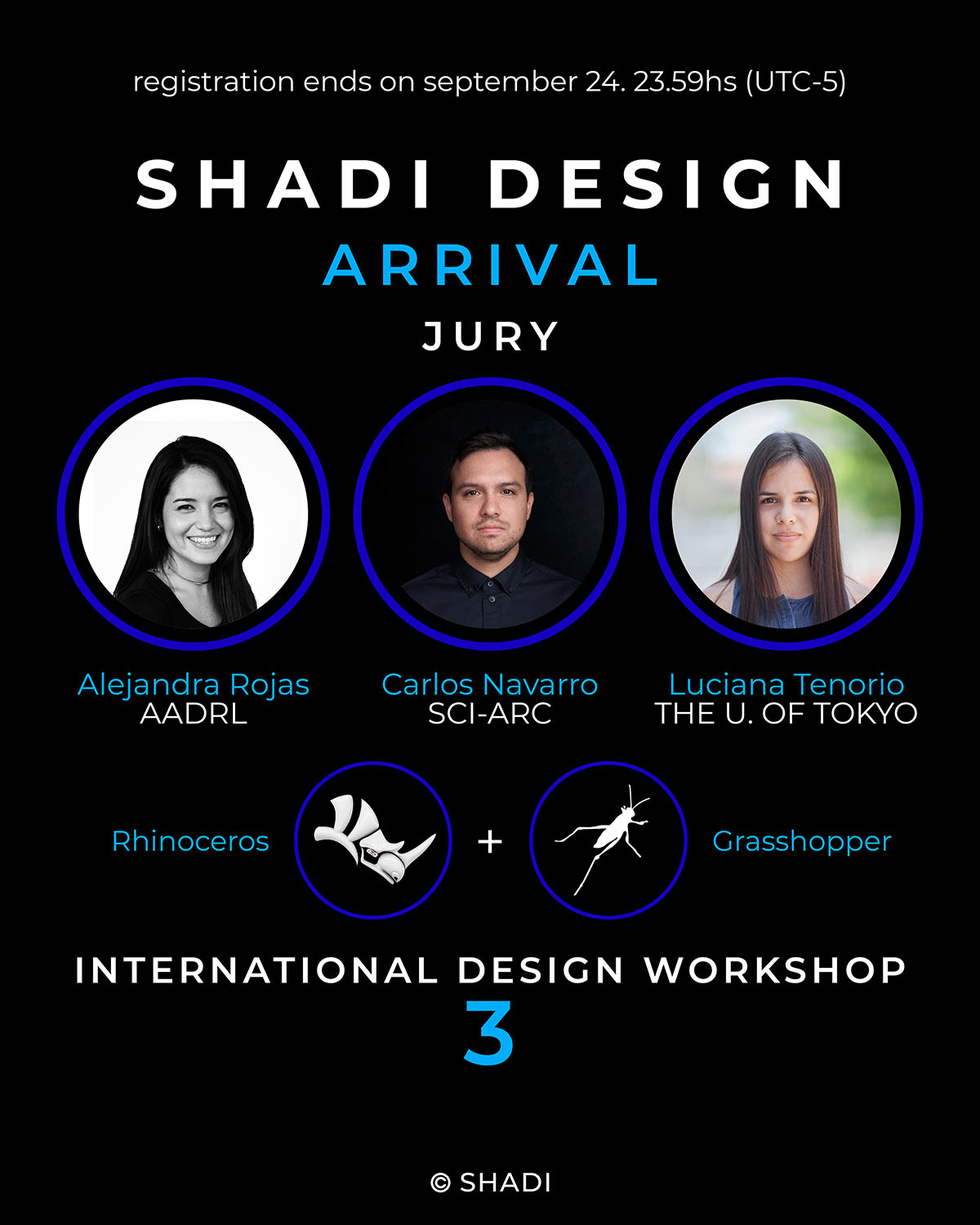 Shadi Design invites you to participate in the International Design Workshop 3 · Arrival. The workshop will have juries and guests with experiences in Kengo Kuma Lab, P-A-T-T-E-R-N-S, Architectural Association, SCI-Arc, The University of Tokyo.
Registrations are open until 24 September 23.59hs (UTC-5).
The workshop is aimed at students & professionals of architecture, design, arts, photography, engineering, related careers and the general public. Open to international participation in virtual mode by Zoom in Spanish, with English subtitles.
Shadi Design invites you to know the production results of our previous editions on Instagram and Youtube.
The main workflow to be taught will be computational design: Rhinoceros + Grasshopper (3D modeling software). Directed at a basic, intermediate, advanced level & in competition mode, intensive. Prerecorded introductions, theory/practical classes + reviews & live streaming final presentation.
The procedural workshop will be developed in the contest mode, as a discipline focused on developing a project that will value competitiveness, merit and talent. Three members per team at the choice of those enrolled or assigned by teachers based on a skills questionnaire, in case the participant registers individually. We also make available that the registered person decides to develop the workshop individually & independently to this modality.
Benefits: recording of classes for 50 days + access to documents + certification + integration of the production made in the portfolio + participation in virtual exhibitions + publications in the media + community in Discord defined with the objective of holding conversations & meetings on topics of culture, answer questions during the workshop & receive news of job opportunities + contests + special discounts.
Shedule (UTC-5)
Registrations: until 24 September. 23.59hs
Period: start: 25 September · End: 31 October
Classes (24 teaching hours): Saturdays & Sundays: 9.00hs a 13.00hs
Reviews (+20 hours): Sundays: 17.00hs a 21.00hs
Live support on Youtube & Twitch:
31 October. 17.00hs
Director: Kevin Abanto
Jury:
Alejandra Rojas (Architectural Association, By Alejandra Design)
Carlos Navarro (SCI-Arc, OFFICEUNTITLED)
Luciana Tenorio (The University of Tokyo, Japan Aerospace Exploration Agency)
More information in Spanish can be downloaded from here.
All inquiries about our workshop & upcoming editions will be resolved in:
DM: instagram.com/shadidesignxyz
E-mail: [email protected]
Social networks: https://linktr.ee/shadidesignxyz.
Top image courtesy of Shadi Design.
> via Shadi Design