AIA selects nine buildings for 2019 Institute Honor Awards for Architecture
The American Institute of Architects (AIA) has selected nine projects for its 2019 Institute Honor Awards for Architecture. Bjarke Ingels Groups' Tirpitz Museum in Denmark, David Adjaye's Smithsonian National Museum of African American History and Culture in Washington are among the this year's recipients.
The AIA's award program recognizes the best contemporary architecture and highlights the many ways buildings and spaces can improve lives.
AIA's jury was composed of nine members and evaluated submissions that demonstrate design achievement, including "a sense of place and purpose, ecology, environmental sustainability and history," stated in the AIA press release.
"The 2019 Architecture program celebrates the best contemporary architecture regardless of budget, size, style, or type," said the AIA. "These stunning projects show the world the range of outstanding work architects create and highlight the many ways buildings and spaces can improve our lives."
Scroll down to see the winning projects and their short descriptions:
Image © Benjamin Benschneider
Arlington Elementary School, Tacoma, Washington, Mahlum Architects
"An exploration of the spatial possibilities that emerge when schools are envisioned as living, breathing organisms, this Tacoma, Washington, elementary school eschews basic assumptions and promotes a new model of civic practice in education. Designed to be the center of the community it serves, Arlington Elementary School fundamentally redefines what a student is by assuming we are all learners."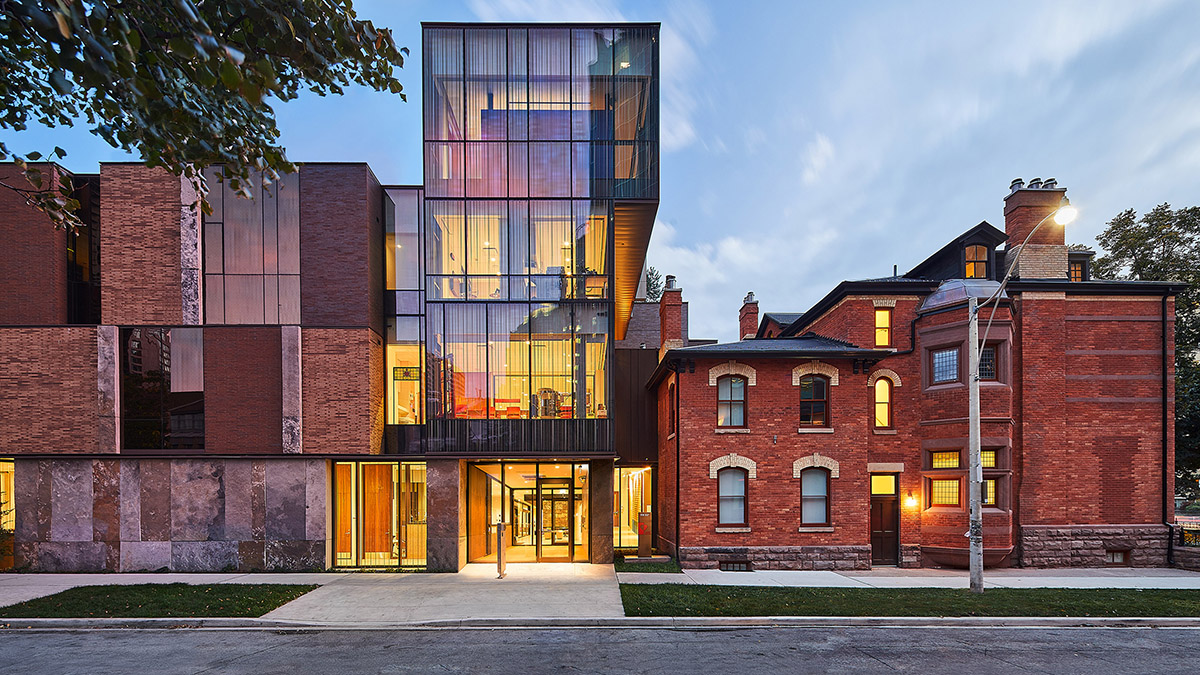 Image © doublespace photography
Casey House, Toronto, Ontario Canada, Hariri Pontarini Architects
"A much-needed extension and addition for a specialized healthcare facility serving those living with HIV/AIDS, Toronto's Casey House represents a new prototype for hospitals. Over 10 years in the making, it meets the needs of its patients and their providers in a setting designed to evoke the comforts of home. Adding 59,000 square feet of space to an existing heritage-designated Victorian mansion, the design team implemented a new Day Health Program to serve 200 registered clients through 14 new inpatient rooms. The new structure embraces the 1875 mansion, nicknamed "the Grey Lady," and organizes the user experience around a landscaped courtyard, visible from every corridor and room."
Image © Casey Dunn
Confluence Park, San Antonio, Lake, Flato Architects + Matsys
"Lake|Flato Architects and Matsys Design built sculptural concrete pavilions and an education centre to understand different ecotypes of the South Texas region and the function of the San Antonio River watershed, as well as providing a dynamic park for various types of activities. Named Confluence Park, the 900-ft2 area is composed of the main BHP Pavilion and the multi-purpose Estella Avery Education Center, which can work like "a living laboratory" that allows visitors to understand the region's local climate."
Image © McGinn Photography
Crosstown Concourse, Memphis, Tennessee, Looney Ricks Kiss
"Reviving a retail distribution center that had stood abandoned since the early 1980s, this 1.3 million-square-foot vertical urban village in Memphis has transformed urban blight into a vibrant community. More than just the rebirth of a building, Crosstown Concourse has uplifted an entire neighborhood and given the city a glimpse of its possible future. Originally envisioned as the home for a small startup company with plans to organically revive the building in the coming decades, the ultimate vision for the mammoth building grew out of a six-month feasibility study that involved hundreds of meetings with neighbors, civic leaders, and institutions, all of which were invited to share their ideas."
Image © Anna Wesolowska
Restoration of the Rotunda at the University of Virginia, Charlottesville, Virginia, John G. Waite Associates, Architects, PLLC
"This restoration of the symbolic center of the University of Virginia—widely considered Thomas Jefferson's single most important architectural achievement—relies on the highest level of historic preservation and building conservation care. Envisioned by Jefferson as a temple for learning, but largely relegated to administrative and ceremonial use, the Rotunda is once again a focus of university life."
Image © Simon Menges, Berlin
Smart Factory, Hoffman Estates, Illinois, Barkow Leibinger
"Standing out among the bland office parks and faceless warehouses along I-90 just northwest of Chicago, the Smart Factory houses a prototypical showroom of advanced machine tools used to fold and shape sheet metal. Positioned strategically near Chicago O'Hare International Airport, it occupies a parcel of land reclaimed from an abandoned corporate campus."
Image © Alan Karchmer
Smithsonian National Museum of African American History and Culture, Washington, The Freelon Group (Now part of Perkins+Will), Adjaye Associates, Davis Brody Bond, and SmithGroup
"Located on Constitution Avenue, adjacent to the National Museum of American History and the Washington Monument, the museum houses exhibit galleries, administrative spaces, theatre space and collections storage space for the NMAAHC. As lead designer for the Freelon Adjaye Bond/SmithGroup (FAB) team, David Adjaye's approach has been to establish both a meaningful relationship to this unique site as well as a strong conceptual resonance with America's deep and longstanding African heritage."
Image © Will Crocker
Starter Home* No. 4-15, Saint Thomas/Ninth, New Orleans, OJT
"The continuation of the architect's Starter Home* initiative, which delivers entry-level homes to historic urban neighborhoods that are quickly gentrifying, Saint Thomas/Ninth renegotiates existing site conditions in New Orleans to maximize residential density. The project levels the playing field for homebuyers in the city's Irish Channel neighborhood by adapting to the difficult, irregular fabric found there."
Image © Rasmus Hjortshoj
Tirpitz Museum, Blåvand, Denmark, BIG-Bjarke Ingels Group
"A sanctuary situated on a dramatic war-history site on Denmark's west coast, this museum has transformed a never-completed German bunker into a groundbreaking cultural complex. Antithetical to the dark days of World War II occupation and the heaviness of the cement bunker, the architects' delicate intervention adds a central public square surrounded by light-filled spaces embedded in the landscape."
> via AIA