Opposite Office reveals plans to transform Berlin's Brandenburg airport into a superhospital
Munchen-based architecture studio Opposite Office has revealed plans to transform Berlin's Brandenburg airport, which is under construction since 2006, into a superhospital for coronavirus (Covid-19) patients.
The office explained its proposal in an open letter sent to the German minister of health Jens Spahn. Opposite Office founder Benedikt Hartl aimed to transform the new Berlin airport to treat the coronavirus patients, saying that could be a better way to evaluate the airport's spaces.
The airport project is highly controversial in public and an example of the inability of realisation of major construction projects in Germany.
The office said "The new Berlin airport is an example of incorrect planning and cost explosion, which also resulted in a life ticker of costs."
"In Spain and Italy, we can see that the health systems is highly struggling due to the outbreak of COVID-19. This will also face Germany, since the outbreak is some days behind."
"This is why Benedikt Hartl from Opposite Office proposes to redesign the inglorious airport into a "super hospital" to prepare for a higher number of infected people," added the studio.
"We have had time to prepare for the pandemic even better since the Wuhan outbreak. There, the Huoshenshan Clinic with a capacity of around 1000 beds was literally "stomped" out of the ground within 10 days. At that time, joking comparisons were made regarding the construction of the new Berlin Airport, which has been under construction since 2006."
"On March 26, the German Minister of health Spahn described the current situation in Germany as "the calm before the storm". However, our health system is already facing an ordeal."
"Flying was no longer in vogue even before the outbreak of COVID-19 and now the avenge of shame has given way to a deadly risk of infection."
"We agree that we will certainly not need this new airport in the near future. And today? "Today this airport can help us!", explained Benedikt Hartl from Opposite Office his concept.
"So why don't we use it as a kind of super hospital for COVID-19 infected people?," added the architect Benedikt Hartl.
As the architect highlights, an advantage would be that infected people would be completely isolated at the airport area (1470ha) and would not come into contact with other patients.
The main building alone, with an area of 220,000-square-metre, offers plenty of space for medical (emergency) care. The existing airport offers untapped potential.
The new "Covid-19 Superhospital BER" uses the building structure of the airport and is equipped with round modular cabins. These can be constructed in stages for each gate. Booth builders who are economically most affected by the crisis could take over the construction. The Corona Hospital could be opened within a few days.
"Let's take China's pragmatism and zest for action as a role model!," continued Benedikt Hartl.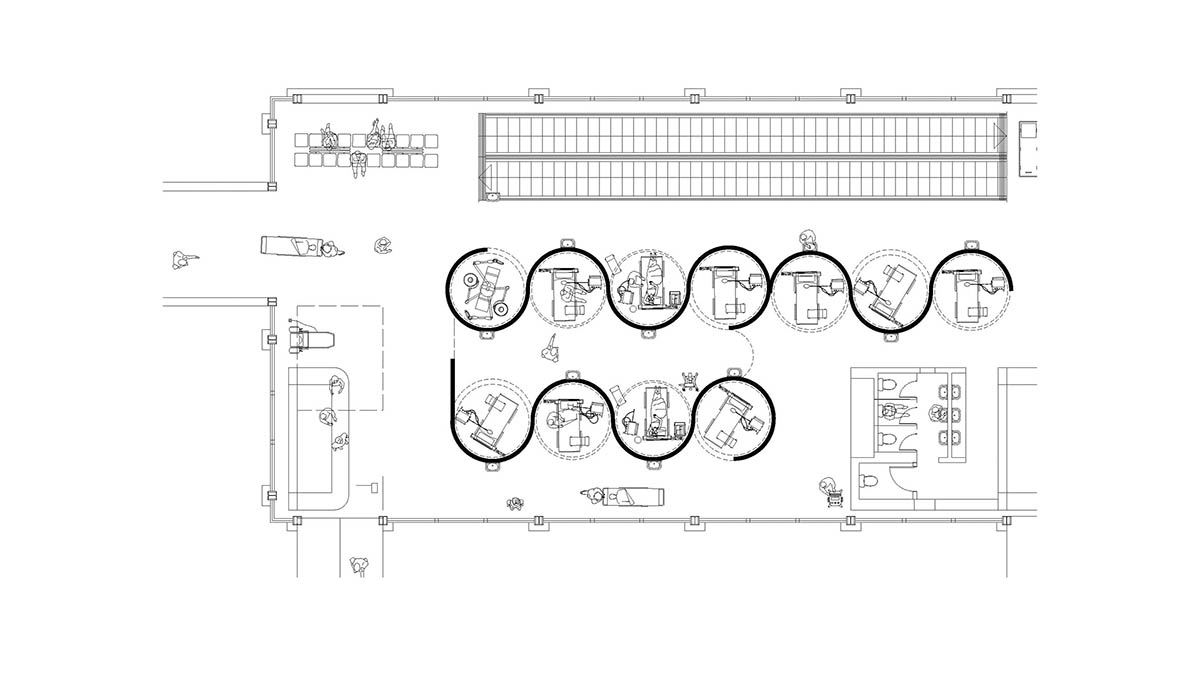 Architecturally, the modules are a simple construction made of steel profiles with planking. Nevertheless, an attempt is made to create an appropriate and pleasant atmosphere for patients, because the environment also effects the recovery process, according to Opposite Office.
In this way, each patient receive their own retreat. The curved, round spatial structure creates a calm and secure place for recovery and relaxation.
The concept for the "superhospital" can be applied to all airports worldwide since air traffic is restricted and currently very limited.
Many architects and designer are looking for alternative ways and spaces to treat the coronavirus patients as the world experiences shortage in medical staff, treatment centers and personal protective equipments.
Recently, Carlo Ratti Associati, in collaboration with Italo Rota, unveiled design for moveable intensive care units, called CURA, for coronavirus patients. The first prototype of CURA is currently being built in Milan.
Nagami Design also designed 3D print protective masks to help fighting coronavirus.
All images courtesy of Opposite Office
> via Opposite Office