Submitted by
Rodolfo Cañas' Hermetic Family House Defined By Protruding Skylight In Central Chile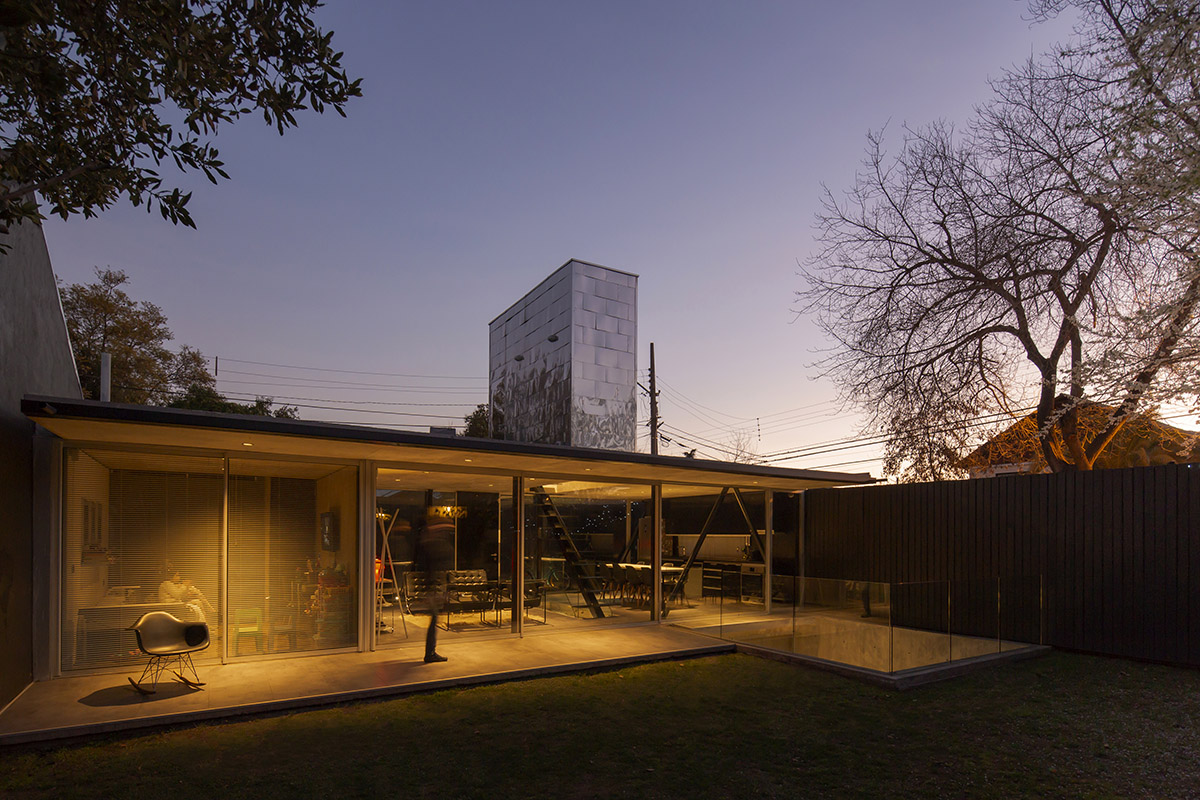 Chilean architect Rodolfo Cañas has built a low-rise family house in the city of Santiago, Chile with an "oversized skylight" protruding from the house.
This oversized skylight, in fact, gives a glimpse of what could be happening inside, according to the architect.
The simple rectangular skylight clad by stainless steel, perhaps, is the key design element that defines the house in a simple way.
Named Mogro House or Skylight House, the house was designed as a medium-budget house in a neighborhood from the 1950's in the city of Santiago.
The house's simplicity and elegancy emerges from its highly-crafted details and material choice.
"This house is two thirds of a final project that is not necessarily going to be completed," said Rodolfo Cañas.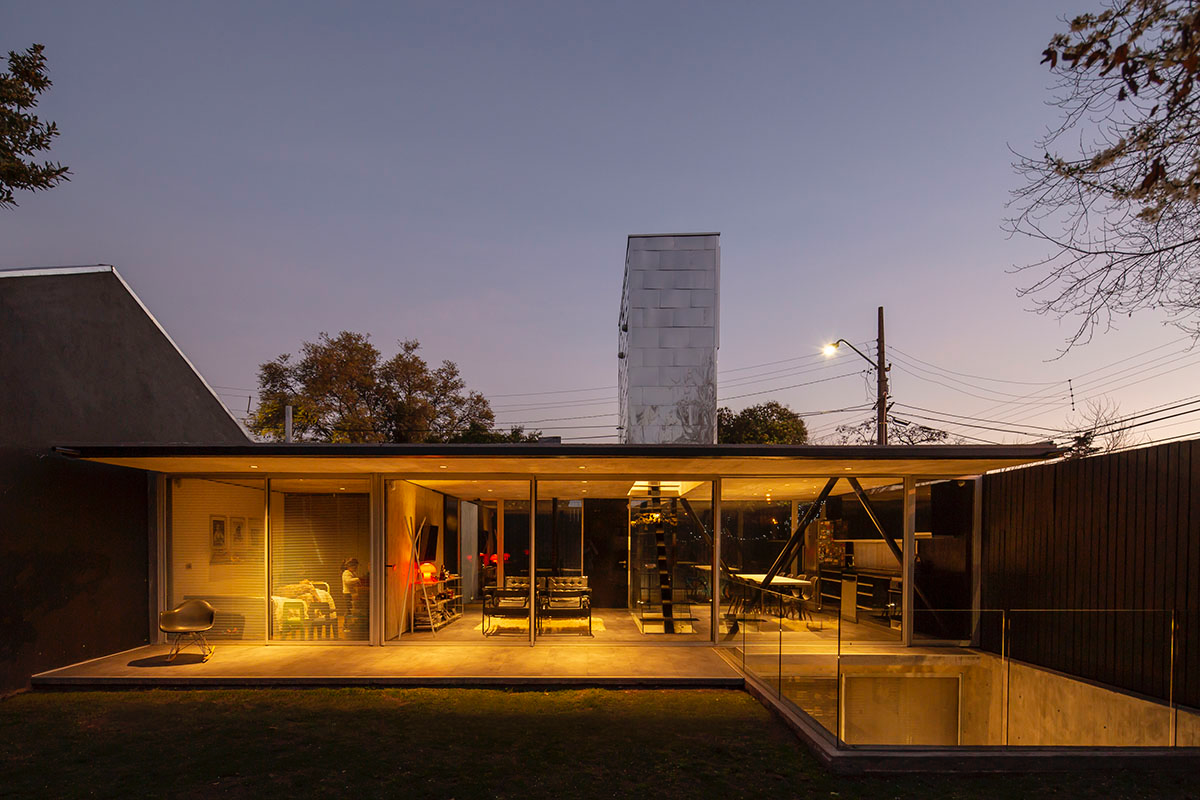 The architect designs all living spaces on the ground floor that shows itself as a translucent box. The common spaces include living room, dining room/kitchen, bedroom, bathroom, walk-in closet, backyard, garden, terrace.
On the basement level, the architect places a large bedroom, bathroom, walk-in closet and a sunken garden to get sunlight to the basement.
The architect plays with light conditions very efficiently, while the house also tries to keep itself as intimate and private as possible.
"In its horizontal section, it encloses an interior that can, being controlled, be used to will," added the architect.
"In the horizontal sense, the house is projected as an isolated and intimate space that can only be discovered when you enter it."
The architect describes the exterior of the house as "hermetic" and adds that "only one oversized skylight gives a glimpse of what could be happening inside."
As the architect highlights, the house is organized in three layers: in the first layer, the access level where the common spaces are found, a glass box, completely integrated to the backyard, or to be more precise, an interior garden with a transparent house sheltered inside of it.
In the second layer, the basement, a buried level organized around a smaller garden. There can be found the quarters of the married couple. A dwelling somehow related with the primitive living.
In the third layer, above the main garden the roof slab. It has an elevated terrace and eventually could be the place of the missing third of the house (not projected yet).
"The stairbox, a tall skylight covered with stainless steel, shows the importance of the relationship between the three layers of the vertical section. At the same time, the architectonic image by which the project is recognized is defined," continued the architect.
Basement level plan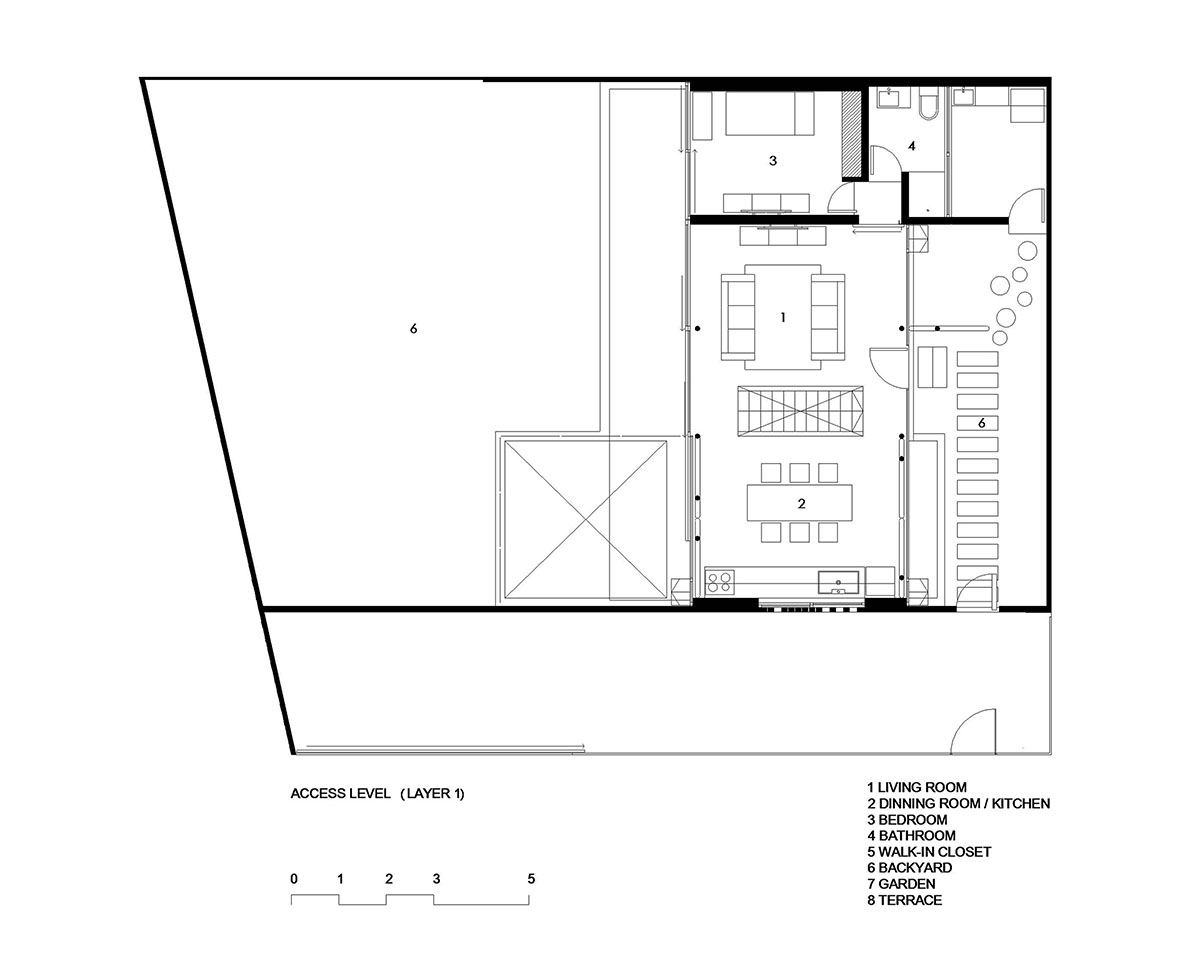 Access level plan
Roof level plan
Elevations
Axonometric drawing
Axonometric drawing
Project facts
Project: Mogro House (or Skylight House)
Architect: Rodolfo Cañas
Location: Santiago, Chile
Program: Single - family house
Completion: 2018
All images © Aryeh Kornfeld
All drawings © Rodolfo Cañas
> via Rodolfo Cañas